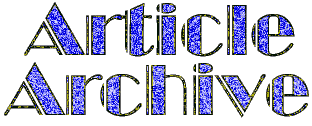 ---
We Live in Two Worlds: The GPO Film Unit Vol 2
From its establishment in 1934 until it morphed into the Crown Film Unit at the outbreak of war, The GPO Film Unit was at the cutting edge of the British documentary movement. The BFI is releasing a three volume chronological survey of its output on DVD.
Volume 2 of the series and we're up to 1936. New improvements to the technical side of film production freed the documentarists from many of the constraints of their equipment. Feeling more comfortable, they're able to innovate even more. In drama documentaries such as The Saving of Bill Blewitt and A Job in a Million they brought real people and their lives to the screen. The film makers were even able to respond to current events when floods on the Norfolk Coast were captured in The Horsey Mail.
Back in the studio, animators like Len Lye, Norman McLaren and Lotte Reiniger were able to develop their art. And artists from other disciplines such as WH Auden and Benjamin Britten were added to the mix.
Of the film makers involved in this set, it's Cavalcanti who seems to have made the greatest overall contribution, though he always maintained that on-screen credits at the GPO rarely reflected actual input.
For most people the pick of this bunch is Night Mail, a film that's stayed in the public consciousness long after the last sorting van has hit the buffers. The other popular hit is The Fairy of the Phone - utter 30s kitsch as singing telephonists teach us some phone manners.
DVD features
The discs come in a lovely package complete with a thorough booklet providing mini essays on each of the films, biographies of many of the film makers, and historical overviews of the GPO Film Unit's work. New transfers have been made of all the films and they come with subtitles. All in all, a very handsome production and an essential purchase of anyone interested in the films or the history of the period.
DVD 1

Rainbow Dance

The Saving of Bill Blewitt

Calendar of the Year

Roadways

Big Money

We Live in Two Worlds

N or NW

DVD 2

Book Bargain

What's On Today

The H.P.O.

News for the Navy

Mony a Pickle

North Sea

Penny Journey

The Tocher

God's Chillun