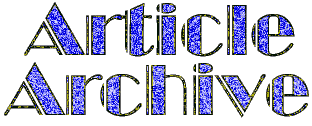 ---
How to be Eccentric - The Essential Richard Massingham
Whether he was sneezing repeatedly or bathing in 5 inches of water, Richard Massingham was a familiar face (and body) to British cinemagoers of the 40s. His short films backed up the Government's campaigns on hygiene, crime prevention, recycling... just about anything they thought the public needed to be cajoled over. Now the BFI has released a selection of his films so this generation can learn the correct way to use a handkerchief and have a few laughs along the way.
Massingham's gift was his ability to surround a clear message with humour and get that message to stick in the mind. He appeared in many of his films as a baffled walrus of a man, struggling with the complexities of even the simplest action and just looking for a simple, quiet life. He had the perfect face for comedy, registering confusion or despondency.
He was a doctor who came into films as a gifted amateur and established a production company, Public Relationship Films, through which he pitched for work with government departments and private companies. The collection includes a selection of his adverts and corporate instructional films, but it's the government work that is his legacy.
It's delightful to see the Five Inch Bather and Coughs and Sneezes again, though perhaps the greater treasures are some of his more obscure films. Down at the Local (1945) is essentially a nationwide pub crawl and gives us a valuable glimpse of actual British pubs of the period and shows how they looked and how they coped in a period of shortage and the absence of the young lads who formed a large part of their clientele. What a Life (1948) captures the gloomy mood of austerity Britain and promotes the rather strange message that things are so dreary you might as well laugh - not what you might expect from a government film.
Massingham was heavily involved with all aspects of production but he also gave chances to many beginners. Behind the camera we have the likes of John Krish and Walter Lassally and in front we have Dick Emery, Barbara Lott and Russell Waters.
The films are divided into themes and a comprehensive booklet gives information on the films and the background to their making. This is a handsome tribute to Massingham and an essential purchase for fans of British films of the period.
The films:
Dr Massingham says...
Tell Me If It Hurts (1934)
Coughs and Sneezes (1945)
Jet-propelled Germs (1948)
Handkerchief Drill (1949)
Another Case of Poisoning (1949)
The Cure (1950)
Surviving the War
The Five Inch Bather (1942)
Post Early for Christmas (1943)
In Which We Live: Being the Life Story of a Suit told by Itself (1943)
Elopement in France (1944)
An Englishman's home...
Down at the Local (1943)
An Englishman's Home... (1946)
Moving House (1950)
Post-war blues: What a Life!
What a Life (1948)
Watch Your Meters (1947)
Warning to Travellers (1949)
Help Yourself (1950)
Post-war Blues: The Daily Grind
Pool of Contentment (1946)
Pedal Cyclists (1947)
Pedestrian Crossing (1948)
30 Miles an Hour (1943)
Introducing the New Worker (1951)